Notice of service termination and how to export your data
Thank you for using PhotoPeach.
Flash Player is an essential technology required for PhotoPeach slideshows but unfortunately the makers of Flash have announced that they will discontinue it at the end of 2020. You can read about their decision here:
https://theblog.adobe.com/adobe-flash-update/
It's very painful, but with the end of Flash we have no choice but to close the PhotoPeach service.
 Please understand these main points moving forward:
  We don't plan to create a new version of PhotoPeach.
  The service can't be guaranteed to work after the end of 2020, when Flash is discontinued.
  After December 2020 if your slideshows stop working due to Flash, we can't provide any help for that case.
  PhotoPeach will be closed entirely by March 2021 due to Flash being discontinued.
  For premium users, refunds will be provided where appropriate. See details below and contact us.
  The service will be phased out in stages as listed below.
2020
July - End of Premium user upgrades
October - End of new user registrations
November - End of payment renewals
December - All Premium users downgraded and refunded. End of Flash support.
2021
January 1 - Login is possible, but slideshows will probably not work. Export any photos you want to keep.
March 1 - End of Login.
April 1 - Complete closing of PhotoPeach service. All user data thoroughly deleted.

Please download photos and slideshows you wish to save before they are deleted. When PhotoPeach closes in March of 2021 all user data will be deleted thoroughly. After that time you will not be able to recover any photos or slideshows from PhotoPeach. Please follow the steps below to save your data.
To export photos:
1. Visit a slideshow that has photos you would like to export.
2. Copy the album ID from the end of the link:



3. In a new browser tab, type the link below and replace "XXXXXXX" with your album ID then press enter: http://photopeach.com/api/getphotos?album_id=XXXXXXX
4. On the next page, you'll see some lines starting with "lurl=". The link following "lurl=" is what you need to access the images that you uploaded to create your slideshow originally.
5. To save the images to your computer, open each link and then right click the photo -> Save As.
Note: You may need to copy the links and paste them into a new browser tab to access the photos.
To export slideshows, please visit the slideshow you wish to save and click either of the green download buttons.
Note: If when you try to download a slideshow you see an error page that says "Oops! The video file does not exist" then please follow these steps:
1. Go to the slideshow and click Edit > Edit Music & Title.



2. Click Save
3. Click Download the Show
4. On the next page, under the green download buttons, click the link "Rerendering the Movie?"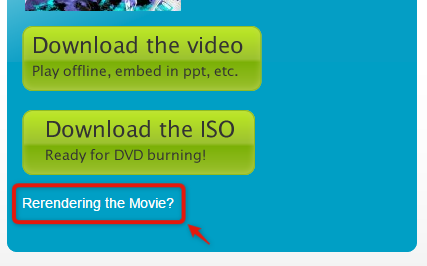 5. The slideshow will be re-rendered. This process takes some time, depending on the slideshow length and level of server traffic, so please wait awhile. We will send you an email when it finishes.
6. When it's finished, come back to the "Download the Show" page.
7. Click either of the green buttons to download as usual and save to your computer.

Important: Cancellations and refunds for premium users If you're a PhotoPeach premium subscriber, please read these details about cancelling your subscription and refunds.
Note: Please export your slideshows before cancelling and before December 2020 when all accounts are downgraded. With a free PhotoPeach account you can not export slideshows, only individual photos.
Before Oct 31, 2020 Yearly subscribers can cancel at any time and will be refunded for the remaining months in the subscription period. Please contact us and include the word "Refund" in the subject.
Monthly subscribers can also cancel at any time and will not be charged again, starting from the next month. If we don't get a request to cancel we will not automatically send refunds.
After Nov 1, 2020
All subscriptions and charges will be stopped from our side. Yearly subscribers will be automatically refunded for any remaining months in their subscription.
If you need help or have any questions or comments, please contact us.
We sincerely apologize that we can't continue our service and we greatly appreciate you using PhotoPeach.    
 PhotoPeach Support Team
Contact & Support - http://photopeach.com/contact